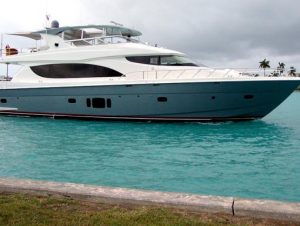 Dubai is not all about tall buildings, bustling streets, shopping malls, and extravagant hotels. For some, it's the white, sandy beaches that draws them to visit the city. While some would max their cards shopping at the prestigious malls in the area, others prefer to get wet and wild in the clear waters of the Arabian Gulf.
With the waves and the sunshine all-year-round, Dubai makes the perfect location to enjoy watersports to your heart's content. Whether you rent a yacht in dubai or head to the nearest beach from where you're staying, you'll never run out of watersports options.
Here are a few watersports activities that will make your excursions twice as fun and memorable:
Knee Boarding
This might be the first time you're hearing this activity, but knee boarding actually exists. Instead of standing and balancing on your two legs while being towed by a motor boat, kneeboarding requires you to kneel on your heel on top of your board as you face the waves. While you can't do the stunts that you're used to doing while wakeboarding, knee boarding presents an entirely different challenge that will get your adrenaline racing.
Kite Surfing
If you happen to drop by Kite Beach, the first thing you'll notice is the throng of kite surfers around the beach. Kite surfing in gaining momentum as a watersports because of the favorable winds, long beaches, and gentle waves around Dubai. The best time to go kite surfing is from December to April. This watersports is also allowed in public beaches, such as Jumeirah Beach and Nessnass Beach. Some luxury yachts rental services offer charter boats to these locations, so you might want to check out if there are available yachts in case you go. Click here for more details.
Kayaking
If the fast-paced activity of knee boarding and kite surfing is too much for you to handle, there's always kayaking. There are beaches with gentler waves that allow you to paddle on your kayak while enjoying the scenic spots around the coast. While the activity is not as thrill-seeking as the previously mentioned watersports, kayaking can get you into shape – plus, it's equally fun to just go with the waves.
Don't just confine yourself to the usual itinerary – hotels, shopping centers, and open markets. Give your trip a little adventure, so you can make the most of your experience in Dubai. After all, what is a trip without the thrill?